Item 425Special - Honda CBR1000RR SP1/SP2 SC77 Quickshifter - Blipper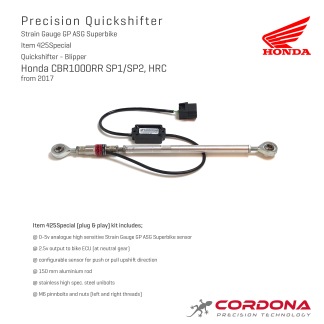 Price:
€ 389
Excl. tax
SKU:
425Special
Type:
GP ASG Superbike Quickshifter - Blipper
Quantity:
* All prices are exclusive vat.

Item 425Special, Analouge high sensitive GP ASG Superbike quickshifter/blip sensor for Honda CBR1000RR SP1/SP2 (SC77) with std. or kit HRC ECU from 2017- Replace OEM QS for up and downshift.
Configurable for push or pull linkage (street or race shift).
Completely plug and play mounted with Pinbolts and 150 mm aluminium rod and uniballs included.

The new developed GP ASG Superbike sensor is a direct plug & play OEM replacement quickshifter/blipper (or only quickshifter) for modern Superbikes and Streetbikes with an analogue 0-5v interface to the ECU.

The GP ASG Superbike sensor greatly improves the gear change performance and gives a superior distinct and smooth gear change feeling similar to top GP and WSBK systems.

The Strain Gauge technology is far more realible than spring loaded OEM shifters and is fully wather protected.
The GP ASG Superbike is easliy configurable for push or pull gear linkage (street or race gear shift).